Partner

Ludes is a multicultural and innovative Campus, open to dialogue and sharing. A commitment in which professionalism, passion and collaboration with the territory are the basis of our present and future vision.
Our mission is to train trained and competent professionals, capable of facing the global challenges of the reference market and developing the listening skills necessary to better interpret the future needs of their interlocutors and patients.
Ludes recognizes the uniqueness and value of its students. It supports their potential and, always in dialogue between different cultures and traditions. Studying in Ludes allows you to achieve both professional and personal growth, building solid foundations to better face your path.

QBT (www.qbt.ch) stands for Quantum Bit Technology: we promote the idea of a Company operating in the field of applied science.
The mission of the Company is to develop algorithms and related software even with specific hardware
QBT offers three services and products in the area:
-Fintech (big-data, portfolio analysis, rating, due diligence systems) for credit market both performing or NPE, Real Estate sector and automated trading
-Artificial Intelligence through Natural Language Processing and Machine Learning applied to Financial market, Legal, HR and in general in applications where the study of the behaviour is a driver.
-Software development as a support to the previous products and in different sectors such as Complexity Theory and Aerospace.

The University of Applied Sciences and Arts of Southern Switzerland (SUPSI) is one of the nine professional universities recognised by the Swiss Confederation.
Founded under federal law, SUPSI offers more than 30 Bachelor's Degree and Master's Degree courses, characterised by cutting edge education which unites classical theoretical-scientific instruction with a professional orientation. Great care is given to research, carried out in key sectors on competitively acquired projects with large European and national agencies or mandated by organisations and institutions.

Innosuisse's role is to promote science-based innovation in the interests of industry and society in Switzerland.
Innosuisse is an entity under public law with a separate legal identity, which is composed of four expert bodies.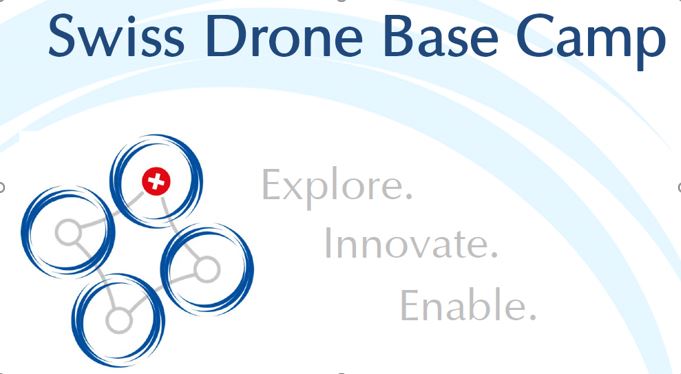 Explore — Innovate — Enable
Swiss Drone Base Camp is the hub growing research, technology, aerospace, regulatory and business know-how for communities and companies to explore, innovate and enable leading-edge drone applications and projects